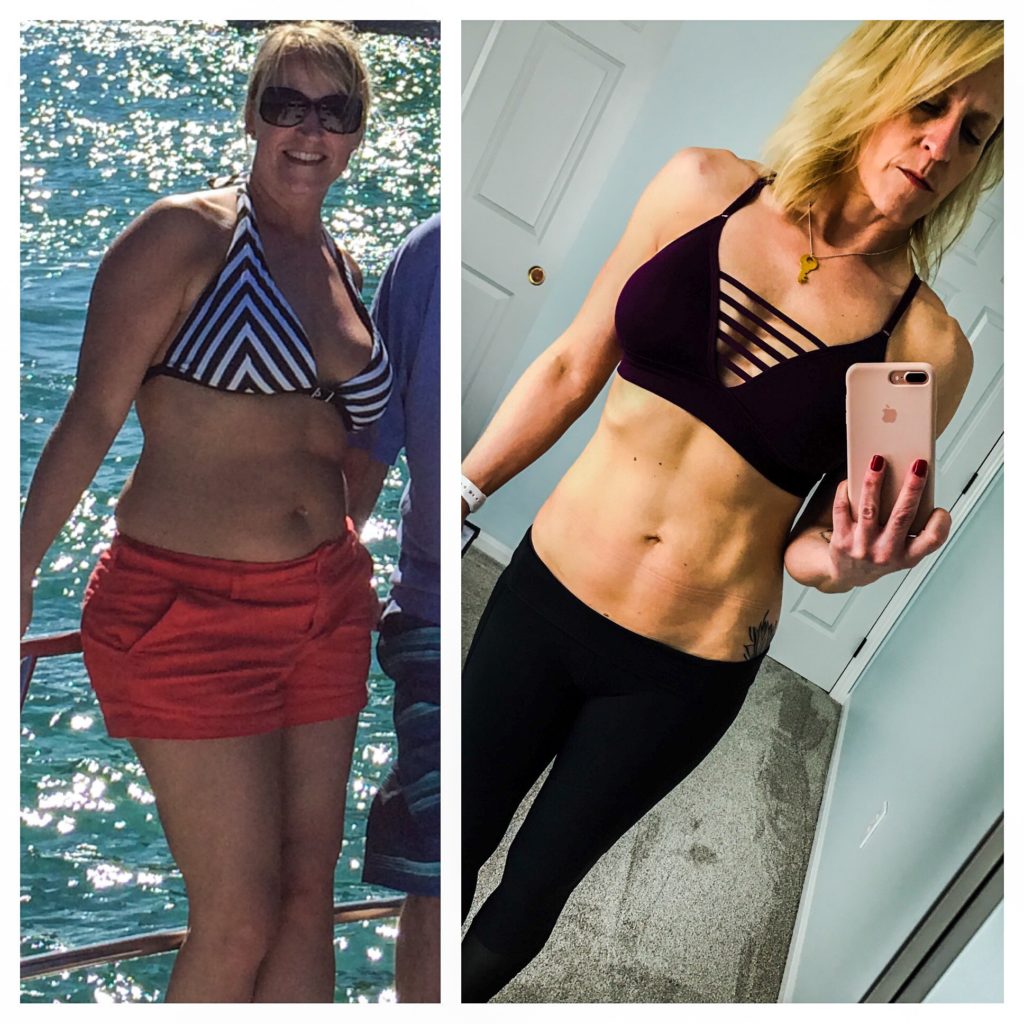 I'm scared. Just thinking about this post and writing it, has filled me with anxiety. But I'm a huge proponent of vulnerability. Showing up in truth and candor. And owning it all. Even when it's uncomfortable. Especially when it's uncomfortable. So I'm swallowing a dose of my own medicine. And showing up. In the arena. Baring more than my stomach. But also my heart. And the thoughts, lies and truths that settle there.
Three years ago I started a journey of transformation. From the left side of this picture, to the right. I've always been a believer in sharing your story. But sharing this picture? I feel embarrassed. Shame. Fear. Why?
Because of the before. And because of the after. Unkind words could be said about both. On the left, "Ugh. Why would she post that?" "Who does she think she is, wearing a bikini with her belly hanging out?" On the right, "Come on. Put some clothes on. Why would she post a picture of herself half clothed? She's being obnoxious showing off her body like that. Inappropriate."
I still see my insecurities first. Hear voices from my past telling me I'm not good enough. My body is not good enough. I'm not sweet enough, skinny enough, pretty enough, and on and on. And, candidly, when I've looked at others' before and after pictures in the past, it triggered feelings of envy and irriration. And sometimes, it still does. Because their pictures made it hard for me to ignore the shame I felt about myself. And I wasn't ready to own that. Let alone face it and have a discussion about it.
But I'm learning. I'm learning to live my life for me. Not for everyone else. And doing so out loud. Despite the negative. The judges and the critics. Living my life in the arena. My arena. Not theirs. So there's no need for their commentary to matter. But it doesn't mean it doesn't hurt sometimes. It's my life. MINE. Yet this lesson can be so hard to practice in real life. And it seems we get tested with it. Over and over again.
It's okay to feel strong and accomplished. And to celebrate it. I worked hard for who I see on the right. But I also worked hard for who I see on the left. However, the woman on the left was hurting. Tremendously. I was using food and indifference to cope. I felt weak. On the right? There is still pain. But it's different now. My low isn't as low. Because I've found healthier ways to cope and manage the pain when I feel it. Through authentic self love. Through loving my body by making it stronger. Fueling it with better choices. Seeking and finding strength from the inside out has made all the difference.
But both of these women are beautiful. Smart. Accomplished. Brave. Both are fighters, warriors and filled with love. But the one on the right? She's more of me. Not because she's thinner and more muscular. But because she's learning to care less about what others think. She's learning to love herself more. She's learning to walk through fear and chase her dreams. She's less willing to let others define her or the life she's living. SHE is defining what success looks like. SHE is determining what's right for her. SHE is learning to quiet the dark voices and listen to the light ones. The ones spoken from grace.
The difference is, transforming myself from the inside out. For years, I tried to transform from the outside in. It never worked. I was so busy trying to meet or live up to the unhealthy standards that society, and some of those close to me, had defined for me. I'm just not willing to do that anymore. I may make occasional visits to the island of other's expectations. But I no longer live there. And once I find myself there, I'm ready to make a quick exit. This doesn't come easily. It takes hard work and daily reflection and intention to choose me.
The journey and the path I've taken isn't one that everyone wants. That's the beauty of it. It's time we stop shaming one another (and ourselves) and instead start embracing and celebrating one another (and ourselves). No matter the goal. No matter the success. Because our goals are not meant to match and be the same. They are meant to be as individual and beautiful as a snowflake. Just like you. Original. Uniquely you.
Let's stand in the arena…together. Supporting. Not measuring. Cheering. Not judging. Let's take courageous steps together. Brave. Strong. Individual, but united. Let's stand, our feet firmly rooted in our vulnerability and live the life of OUR choosing. Ready to show up. For one another. For ourselves. Let's own who we are and where we are in the process. And love one another through it all.
---
If you're interested in hearing more about my transformational journey on what inspired me to seek strength from the inside out, check out this brief five minute video. And the following Q&A session I did with my gym family from Bodies by Burgoon.
Q&A with Heather Petri
Share this!